Looking for Organic Baby Clothes Made with G.O.T.S. Certified Organic Cotton?
No worries, as your brand choices are generous whether you have a larger or smaller budget, the selection of brands with GOTS-certified organic collections is extensive.
The evidence is clear that the preference to purchase baby clothes made from natural Fabric has increased hugely over the last decade, and baby clothes made from organic cotton are trendy in today's society.
As you may know, G.O.T.S. is the global leader in organic cotton fabrics and purchasing from brands that use G.O.T.S-certified organic cotton has a great range of benefits and is a preferred choice for many families.
Therefore, an increasing number of brands have either certified their end-products with G.O.T.S. or used Fabric for their GOTS-certified organic clothing.
(Hence, Remember that in the last case, you may still want to check if an eco-friendly dye is used for the garments. Mostly, genuine eco-friendly brands will mention this and be transparent with their customers).
Underneath, we share a list of 20+ organic baby clotheslines that use G.O.T.S. organic cotton.
As an Amazon Associate, we earn from qualifying purchases. In addition, we use affiliate links and may earn a commission at no extra cost to you.
#1 Finn + Emma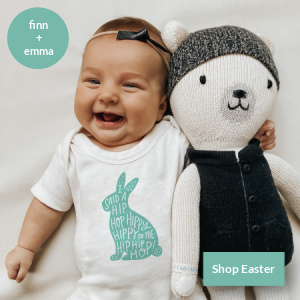 Finn + Emma is one of those brands to fall in Love with.
Not only are their whimsical yet timeless baby clothes made with super-soft G.O.T.S. certified organic cotton and non-toxic, eco-friendly dyes. In addition, they have macrame baby swings and hanging toy baskets that are gorgeous and perfect for finishing your baby's nursery.
Finn + Emma also has a collection of unique toys made from untreated Indian hardwood or hand-knit with organic cotton yarn.
When looking for sustainable organic brands for your baby's clothing and nursery set-up, definitely don't skip Finn + Emma to check out.
#2 Tenth and Pine-(USA made)
Tenth and Pine is unique in a few ways.
Firstly, Tenth and Pine are modern, gender-neutral clothing with pieces for infants through adults; secondly, uniquely, their works are MADE IN THE US.
The ink used for prints is water-based, Oeko-tex 100 certified, and all cotton used is GOTS-organic certified cotton. Yet, keep in mind they also have bamboo pieces, so check per time if they are exclusively made of GOTS-certified organic cotton if that is where you are after.
#3 Burt's Bees Baby
Burt's Bees Baby is well-known for organic baby clothes and is considered one of the more affordable organic brands that use GOTS-certified organic cotton.
Burt's Bees Baby is certified organic under License # 831717. All Burt's Bees Baby's products are from 100% GOTS-certified organic cotton and non-toxic dyes free from P.V.C., heavy metals and phthalates.
Like Hanna Andersson, who is prominently famous for their organic (holiday) matching pj's, Burt's Bees is a popular one for organic matching Christmas P.J and an excellent option for a more affordable option.
#4 Colored organics
Coler Organic is another premium organic brand rated one of the more expensive.
Colored Organics garments are made with GOTS-certified organic cotton, and ALMOST all their products are made with 100% organic cotton.
A few items, though, such as their Leggings, have a small percentage of elastane for stretch. Yet, these items are still made with GOTS-certified organic cotton.
Colored organics baby outfits are timeless yet modern, cute without frill, made to last and offer the most beautiful tone colour choices.
#5 Monica + Andy
Monica + Andy is yet another premium organic baby brand. All the blankets and burp cloths of Monica + Andy are made with GOTS (Global Organic Textile Standard) certified organic cotton. Most of the garments are made with GOTS-certified organic cotton.
Monica + Andy have some adorable prints for their baby clothes, which are Limited edition prints for each season.
Monica + Andy has three guide shops: one in New York City, 1 in Lincoln Park and the last in Prentice. All locations welcome walk-ins and same-day deliveries; hence, the shop stock is only for viewing and not to take home.
Aditinally, you can visit Monica + Andy's Amazon's front store Here or use the green button below to shop on their website.
#6 Migthly
Mightly makes fair trade, organic cotton and fair trade certified children's tees, leggings, dresses, P.J.s, hoodies and more and is G.O.T.S. certified.
Mightly have baby and kids clothes up to size 14, and this organic brand has cute organic matching P.J.s on offer for the family with some cute pattern choices.
Mightly have some cute pattern organic cotton baby pajamas, yet most of their clothing is for bigger kids from size two and up, with some fantastic dress choices for girls.
You can check out Mighlty's organic baby and kids' fashion using the green button below.
Mighly G.O.T.S Licence number OT-034929
#7 Little Planet by Carter's
Little Planet by Carter's is Carter's organic baby clothesline and one of the more affordable options if you are looking for organic baby clothes with G.O.T.S.
Little Planet has more basic pieces sold in bundles, making purchasing G.O.T.S-certified clothing affordable and a great way to set up babies' organic basics.
They also have a more stylish dressy kind of organic baby clothes, sold individually.
#8 Milkbarn
It was 2006 when Stacy Phillips founded Milkbarn, a unique baby clothes brand sure easy to recognize by their unique patterned prints with daughter Haley's distinctive artwork that has become integral to Milk Barn's textiles and fabrics. 
The style can perhaps be best described as rich, realistic vignettes, whimsical to bold and detailed whimsical paintings.
To find Milkbarns organic pieces made from GOTS-certified cotton, you have to check per item as they also have bamboo pieces made from a cotton bamboo blend that is not GOTS-certified.
#9 Pact
Pact is a leading company for ethical and sustainable fashion, and it has to be said that their price point is one of the more affordable ones among their competition for certified organic clothing.
At Pact, you can find certified organic, carbon-neutral, and fairtrade apparel for the whole family and an excellent go-to for basic styles in bundles.
All Pact Baby and Kids Clothing are made with certified organic cotton in fair trade factories, so you can rest assured that if your baby is in Pact apparel, they'll be wearing items made from a safe and non-toxic fabric.
You can also shop at Pact for eco-friendly, non-toxic towels and bedding.
#10 CastleWare-(USA made)
Castleware Baby is a small, thoughtfully organic clothing brand that crafts quality sleeping bags, P.J.s, wearable blankets, and zippers with organic cotton yarn certified with GOTS standards.
Also, uniquely, manufacturing for Castle ware pj's, zippers, sleeping bags and more are done from start to finish in the U.S.A.
#11 Lamaze Organic (by Kitex U.S.A.)
Lamaze is also one of your more affordable options to purchase 100% GOTS-certified organic baby clothes with mainly basic style and designs; it is also offered in bundles perfect for setting up babies' wardrobes for basics.
They are reviewed well and available on Amazon, yet keep your eyes open for a brand called 'Lamaze" with the organics behind it. It is also on Amazon and sells a similar clothing style, yet it is not certified organic.
You can check out Lamaze Organic by Kitex U.S.A. using the green button below.
#12 Jazzy Organics
Jazzy Organics have baby and kids' clothes for up to 4 years and is committed to only using organic cotton.
Their growing team is committed to offering premium baby clothes made with the softest premium quality GOTS-certified organic cotton, combined with modern designs and delicate colours.
 If you like to buy from a smaller brand and looking for unique but classic design baby and kids clothes, you can check out Jazzy using the green button below.
#13 Under the Nile
Under the Nile is also a go-to brand for high-end organic baby clothes, the only brand certified with the golden seal using authentic Egyptian organic cotton.
Under the Nile trading under G.O.T.S. licence number OT-039917
At Under The Nile, you can find Fair Trade organic cotton baby clothes, unique, quirky toys, and accessories. This U.S.-based brand is focused on providing sustainable, high-quality products.
Not one of your cheapest options for G.O.T.S. certified baby clothes, yet a unique one that stands out for sure.
Please note that Under the Nile's baby organic baby clothes are going one step further, with cotton grown on a biodynamic farm being completely self-sustainable and categorized as one of the purest cotton you could come across, also one of Amazon's climate pledge-friendly brands.
You can visit Under the Nile's Amazon front store using the green button below.
#14 Primary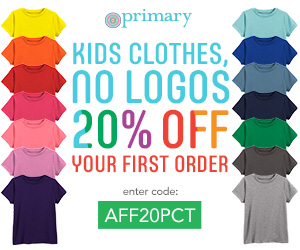 Primary is quite a young brand, yet it has grown in popularity rapidly.
Primary is all about slogan-free clothing without screaming text and quotes all over it; however, its brand is not exclusively organic. They have introduced an organic range for babies using the green button below.
Additionally, they have sustainable-focused pieces that are not organic, using recycled materials, such as their puffer jackets.
Also, Primary is O.N.E. of the kid's clothing brands that use Oeko-tex-certified Fabric, an increasingly popular choice for families.
Shop Primary organic pieces using the green button below. (Check per item if they are indeed 100% GOTS certified.)
#15 Pip Pea Pop
Pip Pea Pop is another unique, thoughtfully designed baby brand featuring a bodysuit to which you can attach a bib to the bodysuit.
Pip Pea Pop uses 100% GOTS-certified organic Pima cotton, a long staple high-end cotton, to create the softest luxury, high-quality baby clothes. This ambitious brand aims to be the most suitable baby brand in the world.
At Pip Pea Pop, you can add a name for an additional $10,- to personalize your unique gift, so if you are looking for a special personalized organic gift, Pip Pea Pop might be worth checking out…
#16 Make Make Organics
Make Make Organics is another high-end luxury baby brand to find genuine organic bodysuits, rompers and blankets, bedding, pillows and more that are reviewed well. Yet, they are one of the brands licensed with G.O.T.S. for their products.
Not one of your cheapest options, but if you are not on a budget, a cute, well, well-reviewed organic brand to check out for a variety of baby stuff or to select a beautiful gift.
Makemake organic licence number 010673
#17 L'oved Baby
Love'd Baby was born by creating a nursing cover Sarah made for her baby to help with breastfeeding discreetly in public.
Later, Shar started making these products for others, which was the birth of her company, Love'd Baby.
Fast-forward to Love'd Baby today; you will find a variety of baby wear basics for boys and girls.
While initially, Love'd Baby was using minimally processed conventional cotton without added chemical softeners, harsh added chemicals, or toxic flame retardants,
When they learned about the benefits of GOTS-certified organic cotton, Love'd Baby transitioned their Cotton Basics Collection to GOTS-certified ORGANIC cotton.
 Unless otherwise stated, all Love'd Baby's products are made of 100% organic cotton that is GOTS certified.
#18 Soulflower-(Made in the USA)
And then we have Soulflower. Yet one unique brand and your go-to store to check out for hippy/boho style clothing for babies, kids and adults.
Soulflower uses GOTS-certified organic cotton and fairtrade featuring unique designs drawn by their in-home team and proudly made in the U.S.A.
# 19 1212 Organics
1212 Organics is another high-organic baby brand to find GOTS-certified organic cotton with apparel for babies, kids, men and women.
1212 Organics is well reviewed, and like Pip Pea Pop, this luxury brand uses long staple Pima organic cotton for their apparel to create the softest P.J.s, bodysuits, rompers and more.
These garments are made in Peru, and oh, mine, don't they have the most amazing printed fabric apparel to fall in Love with…
#20 Honest baby
Besides the famous B-corporate company The Honest Company, Jessica Elba launched a sister company named Honest Baby Clothing, which launched in May 2020.
You can find a range of baby wear products at Honest Baby Clothing with the complete line GOTS certified under licence number OT-033770.
Honest Baby clothing has very basic choices with many basic colour choices at an affordable price point and slightly more costly pieces with unique modern design options that match their limited-edition diaper prints from their sister company Honest Baby.
The Honest baby clothing has sizes available up to 5T.
#21 Hanna Andersson
No, NOT all Hanna Andersson clothing is organic, Yet the Famous Hanna Andersson PJ collection is!
Perhaps most famous from Hanna Andersson collections are their P.J.s, available in tons of prints and made from certified organic GOTS cotton.
No, They are not the cheapest, yet regular sales can make these super soft Hanna Andersson hand-me-down quality P.J.s much more affordable.
#22 Tabeeze
Tabeeze is proud to be 100% GOTS certified with license number OT-037221 and has created a unique, sustainable product with button-up bodysuits for babies and an organic option for baby clothes for easier diaper changes.
Tabeeze supports 1% of profit to the planet, is a certified B corporation, and is highly focused on sustainability and eco-friendly approaches across its brand.
You can check out Tabeeze using the green button below.
#23 Indi by Kishu Baby
At Indi by Kishu Baby, more commonly known as Kishu Baby, you can find organic paci blankets and swaddles, but Kishu Baby is known for their broad choice of organic bibs.
Kishu baby and home products are crafted from 100% GOTS-certified organic cotton.
Pros
 90-Day Money Back Guarantee and a 2-Year Replacement Warranty
Made in a Fairtrade factory in India.
All pieces are made from 100% GOTS-certified organic cotton.
Climate pledge-friendly brand on Amazon.
Well reviewed on Amazon with an average of 4+ stars.
Cons
Not locally made in the U.S.
Slightly pricey
#24 Oeteo
The Oeteo brand has a variety of ranges of functional baby clohtes focussing on adaptive baby clothes, bringing a unique design to the market.
Oeteo has a variety of baby clothes, including a bamboo range, an Oeko-tex-certified range, and a GOTS-certified option, which you can check out underneath.
#25 Pehr
Pehr is a luxury Canadian baby brand with clothing collections available that are GOTS certified organic Certified by Control Union under number 1031146.
Besides their organic baby clothes collection, you can find other products of the Pehr brand for your nursery, such as unique mobiles, storage baskets and more.
#26 Parade Organics
Parade Organics is another organic baby wear brand founded by Mum in 2004 in Canada.
The parade baby clothes and products are made with 100% GOTS-certified organic cotton and eco-friendly azo-free dyes with pieces in their collections sizes from newborns up to approx ten years of age.
You can find two Parade Organics flag stores in Canada.
One in Gastown and one in Granville Island.
In addition, Parade Organics has now extended its services into the U.S., shipping its certified pieces to American customers and partners from just over the border in Washington State.
You can also find all Parade collections in their Amazon front stores, including two-way zippers, sleeping bags, blankets, accessories, and much more.
#27 Sapling child
Sapling Organic is another brand committed to bringing baby clothes with no nasties.
Their baby clothes collections are made with vegetable or water-based dyes, Free From Chemicals and Toxins and Organic Cotton From Non-Modified Seeds.
Sapling organic pieces are crafted from 100% GOTS-certified organic cotton, and their baby wearables come with Non-toxic iron-on labels, which means no itchy tags.
Sapling child may most certainly not be the most affordable choice. Still, with core values of quality, thoughtful designs, and sustainability, this Canadian brand brings some cute patterned organic choices for families.
Final thoughts for baby clothes brands in the U.S. that use GOTS organic cotton.
There is no shortage of choice in today's world to find genuine organic baby clohtes certified with GOTS. However, the amount of choice is perhaps somewhat confusing.
Yet, if you have the budget, find styles and prints you love between these brands, or when you have a smaller brand, you still have some great options across some of these brands that sell their clohtes in bundles such as options by like Little Planet, Lamaze, Pact, Burts Bees or Oeteo.
What is your favourite Organic baby clothes brand?
When browsing for premium baby clothes in Australia, you may have come across Aster and…